The SCOAN Live Sunday Service of April 10, 2016 witnessed great exhortation of the Word aside from The SCOAN Choir's choral counsel. Every song was tailored to suit a Scriptural purpose and remind congregants of their duties as Christians towards the world in which they live. The message of Evangelist Evelyn Joshua focused on THE IRONY OF FATE and reflected the essence of God in a man's life. It also captured the intrigues involved in the Christian race which has never been a stroll in the park for anyone – not even for our Lord Jesus who had to die for our sake.
"In the world today, mankind has endless wishes and desires to suit the philosophy of what a successful life means to them. Many desire to be leaders – the spokesmen in that gathering, the pastors in this congregation, the chairmen of that forum, the Managing Director of that company – endless wishes. But it is not mere wishful thinking that brings about a contented life; it is a rightful focus. So, on what are you focusing? When you focus on God in your decision making, you are prepared for tomorrow."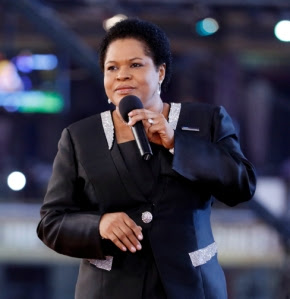 Evangelist Evelyn contended that it is only when our lives are focused on God that we are assured of a brighter tomorrow. But a brighter tomorrow is not without its own tests and trials that we must strive to overcome. We must endure, persevere and remain steadfast like great people of the Bible whose dependence on God paved the way for their eventual greatness: "If you carefully observe the lives of great men and women of faith, you will discover that their lives were centred on one thing – the Saviour first in mind. In all their steps, in every move they made, they were driven by Christ's Spirit of hope, faith, patience, endurance, perseverance and forbearance for a better future. They had the right attitude to life by combining hard work with a quiet confidence in God, their source, for the future they desired not the one they feared".
Evangelist Evelyn left the congregation to ponder over and derive inspiration from the following nugget: "The best are those who are destined for Heaven, those who internalise God and believe that the service of God is a thing of the mind. They are willing servants who do what the Lord puts in their mind to do. They mirror Christ; they are not swayed or moved by public attitude or opinion concerning what they believe. They are unique among the crowd".
TESTIMONIES
DELIVERED FROM THE SNAKE PIT
Mrs Idowu Gambo Dennis did not get the best of parental upbringing – her parents separated when she was barely a year old. Her mother remarried but her father did not, in the spirit of love for his five children, of which she was the last. Her father's sister ended up raising them while her father supported them financially. Young Idowu did not see her mother again until she was fourteen. They planned for Idowu to attend school in Kaduna with her mother, however the plan fell through and she ended up spending just one school term there.
Her progress as a growing child was very unstable as she moved from place to place because of a faulty home front. At age 18, she met a man who wanted to marry her – a married man with four wives who did everything possible to entice her. Even her parents who were tormented by poverty tried to convince her to marry the man who was 30 years older than her. Despite the fact that she found it unthinkable to marry a man old enough to be her father, she ended up sleeping with him before finally making an escape from him.
As Idowu was growing older, she never had the slightest inkling that she was possessed until she reached the age of 34. She discovered that her dreams were dominated by snakes and she always felt a crawling sensation in her back. Her inter-personal relationships were also affected by the evil spirits that were working against her. She experienced so much hatred from people who called themselves her friends. Disappointments trailed her wherever she went and people who borrowed money from her refused to pay her back. One day while working in a hospital in the United States, she peeped into a ward only for a patient to shout out that he saw a mighty snake. The patient was considered to be insane but she realised the evil spirit within her was what the man had seen.
Realising that her snaky nightmares and the resultant gloom that always followed her life were not ordinary, she embarked on a long mission for solution. She visited many churches which confirmed she was possessed but could not deliver her. Her quest for deliverance took her to South Africa and Zimbabwe but nothing good came out of those trips. Discovering The SCOAN and Prophet T.B. Joshua via YouTube, she decided to visit Nigeria but was initially discouraged by a pastor. It was after all her efforts failed that she made up her mind to visit The SCOAN.
Seated in the auditorium during The SCOAN Mass Prayer, the demon in her made her run away from the fire that pervaded the atmosphere. But after the service, the Holy Spirit arrested her in a special prayer session in which the demon, bombarded by heavy anointing, spoke out through its host: "She refused to marry me; so, I projected a serpent. I am at her back as a serpent. I don't care about her family. I just don't want her to make it. We are cultists. You cannot take her from me. I have been here for a long time, for almost thirty years. They advised her not to come here but she insisted that she must come. I am the head of Ogboni (cult)." The man of God, taking authority in the name of Jesus, commanded the demon out of Mrs Idowu Dennis who immediately fell to the ground.
Returning to the church for her testimony, Mrs Dennis thanked God for her freedom from captivity and urged people to put aside the falsehoods they are told about The SCOAN, stressing that God is here.
SLEEP APNEA LOSES ITS GRIP FOREVER
For ten years, Mr Agyei Boateng suffered from obstructive sleep apnea, a condition that prevented restive, uninterrupted sleep. The problem led him to travel to the UK for medical attention and it was so severe that a surgery was carried out on him. There was no respite for the Ghanaian in spite of the money spent and efforts made trying to seek
solution. His daughter, an ardent watcher of Emmanuel TV, introduced him to the channel. After watching several times, Mr Boateng's faith was built to an unshakeable level, so much so that he decided to visit The SCOAN.
On getting to The SCOAN, father and daughter were placed in the Prayer Line with the father connected to his oxygen machine. The man of God, Prophet T.B. Joshua, on sighting Mr Boateng, handed out a bottle of the Morning Water to the daughter and asked her to minister it to her father. While ministering the Morning Water, the young woman fell to the ground, immediately under the influence of the Holy Spirit. The man of God thereafter instructed Mr Boateng to minister the Morning Water to himself. As he ministered it, his body began shivering under the anointing of the Holy Spirit. Commanding him to remove the oxygen machine, the man of God declared him free and he was free indeed, through Christ Jesus.
Testifying before the congregants, Mr Boateng, in company of his daughter, praised God for healing him and restoring his sleep. He advised people all over the world in the following words: "God does miracles through the Morning Water. Anytime you are praying, pray for the man of God".
STIFF NECK LOOSENED BY GRACE
For Mr Aloysius Osuiwu, it was pain all through as he battled with a stiff neck caused by cervical spondylosis and degenerative disc disease after he was involved in a motor accident. The indigene of Imo, Nigeria experienced serious discomfort, especially at night. Whenever he wanted to sleep, he was forced to keep his head facing up. He could not sit properly without support. He had been to four different hospitals and had spent a fortune but no respite still. He was confined to a neck collar after all medications failed to bring about any improvement. The option of surgery was there but he declined the offer. Recalling a horrible dream his daughter had in which he died in a motor accident, he concluded that his problem might be spiritual and instead opted to visit The SCOAN.
On coming to The SCOAN, Prophet T.B. Joshua prayed for him. According to him, during the prayer with Prophet T.B. Joshua, he felt a sensation and heard a sound like a bone being fixed back to its normal position. In an instant, he felt no more pain and stood up celebrating his healing to the glory of God.
Thanking God for his healing amid demonstrations of his total fitness, Mr Osuiwu said he now does all the things he could not do when he had the problem. "We should look for Jesus Christ; He is our solution," he advised people the world over.
INITIATED THROUGH A DRINK; DELIVERED THROUGH A WORD
"There is a brother under the canopy – you are an armed robber." Sitting in the overflow congregation at The SCOAN, Chukwuma Emengini sat listening to the message from Prophet T.B. Joshua in shock. Church was the last place he had wanted to be on the weekend – a time he wanted to spend with his gang. Chukwuma's life, though young, was already marked with violence, crime and witchcraft. It all started with the friends he had chosen. After celebrating a football victory with friends, one of them dropped a charm into a glass of alcohol and asked him to drink it. He hesitated but since it was given to him by a friend, he agreed to drink it. The unthinkable then began. On the very day he took that drink, he had a bad dream in which he found himself breaking into people's shops and houses, stealing their belongings. Subsequently the urge to steal built its tent in his heart to the extent that he consulted a native doctor who prepared a charm for him to make his body impregnable to bullets and knives. An incision was made on his hand to complete the diabolic fortification and the native doctor tested his charm on the lad to ensure that it was working by firing a shot into the boy's arm which bounced off and hacking at his head with a sword, which also left no mark. Initially, Chukwuma and his friend who gave him the charmed drink started as pick-pockets and progressed rapidly towards becoming armed robbers. After every successful operation, they would relax in night clubs and squander their loot on alcohol, cigarettes and drugs.
However, as strong Christians, his parents had noticed their son's strange behaviour and had made up their minds to bring him to the Arena of Liberty lest he die an untimely death. Seated under one of the overflow canopies, the young man received the following prophecy from the man of God: "There is somebody under the canopy out there. The reason I am calling you is because you are a thief. You have that spirit of stealing. You have graduated to a high level of robbery… you need deliverance because this thing keeps tormenting you." The young man made his way into the auditorium and confirmed the prophecy after which he received deliverance in the mighty name of Jesus. Thanking God for the deliverance of his son, his father, Mr Ikechukwu Emengini advised people, especially parents, to put their hope and trust in God.
PROPHETIC WORD RESTORES CEASED MENSTRUATION AFTER 17 YEARS

Mrs Helen Nathaniel had the problem of ceased menstruation for 17 years. She went to many specialist hospitals in search of a solution and was diagnosed with hormonal imbalance by various doctors. The doctors could not provide her with a permanent solution and could only prescribe multiple medications for her. She started going around to different churches in search of solution to her problem. She was even frustrated more as she was asked to 'offer' a lot of money in exchange for their so called 'deliverance' but deliverance never came. After she had spent all her money in the 'churches', she decided to pray on her own.
One day, she received a flyer to visit a church and when she went to the church, they encouraged everyone to watch Emmanuel TV. Following their recommendation, she installed Emmanuel TV and began watching it daily and praying along with Prophet T.B. Joshua. One night, she had a dream in which Prophet T.B. Joshua prayed for her. Immediately after the prayer, she saw two dwarf-like beings leaving her body.
This prompted her decision to visit The SCOAN. On the Sunday she arrived, she was perplexed to discover that while she had come all the way from Abuja to enter the church, upon the point of entry, something in her told her not to. The SCOAN ushers, seeing her hesitation, encouraged her to enter the church to receive her deliverance. Finally, she agreed to enter the auditorium and during the Sunday service, Prophet T.B. Joshua came straight to her and gave her a prophetic word. He prophesied that she was suffering from ceased menstruation and then prayed for her in the name of Jesus Christ.
That night in her hotel room, she began to feel strange sensations in her abdomen and in the morning, her deliverance was miraculously confirmed – her long ceased menstruation had started flowing.
Mrs Helen's advice to everyone was, "Be patient and trust in God. Only God can heal you. Look for a living church and worship there".
Brethren, as we keep doing the will of our God and focusing on him alone, we are assured of a great tomorrow, irrespective of what the irony of fate brings our way. Because he lives we can face tomorrow!