Sunday, 26 June, 2016 was another scintillating experience in God's presence at The SCOAN. The church service was remarkable in many ways. The manifestation of God's power through prophecy, testimony and mountain-moving prayers inspired so much hope and songs of thanksgiving amidst the congregation. Prophet T.B. Joshua engaged the minds of Christians with the Word of God. In his message, he urged them to continue to trust God no matter the condition they find themselves in.
PROPHET T.B. JOSHUA
According to him, the good Christian must not allow situations to rule him or her because, "In our walking with God, there are good and hard times alike." Speaking further, he urged congregants not to allow their situation to make them lose faith in God, stressing that if they allowed such, they would lose their relationship with Him. He also bemoaned the disconnect between people and the Spirit of God due to their attachment to worldly cares."People have the Word all over the world but they cannot obey it because they need the Spirit," he submitted.
Evangelist Evelyn Joshua had earlier spoken to the congregation. In her message, she urged Christians to maintain a solid relationship with God as that is the only guarantee for a great future of glory and honour in Him. By keeping a good relationship with God,
"The supernatural gifts of the Holy Spirit are given to us to minister to one another." She concluded by emphasizing to Christians the need to love God and maintain a good relationship with Him. "The main thing about you as a believer is not the work you do for God but the relationship you maintain. If you want to do great things, you must have a great relationship with Him," she added.
TESTIMONIES
"I RECEIVED A GREAT CAREER BREAKTHROUGH AFTER VISITING THE SCOAN"
Before she got to know about Emmanuel TV and The SCOAN, her life had been a playground for an evil spirit which usually came to torment her in her dreams, raping her and leaving her dejected in real life. Sometimes, she would see elephants pursuing and trying to attack her in her dreams. As she battled with those burdens, her sister introduced her to Emmanuel TV. The more she watched Emmanuel TV, the more she desired to come to The SCOAN. Miss Memory Kasema, a Zambian, resident in the United Kingdom, eventually got the opportunity to visit The SCOAN in 2013.
At The SCOAN, she went through the Prayer Line and also received the Morning Water. As she prayed with the Morning Water, she committed her career into God's hands. As a registered nurse, she had been experiencing setbacks, in spite of her intelligence and hard work. Most of her mates were promoted but she remained stagnant. Having missed two job opportunities in Scotland and Northern Ireland, she continued to minister the Morning Water in prayer. Another opportunity surfaced thereafter and a job interview was scheduled.
Miss Kasema, having been given the date and time for the interview and the large volume of reading materials, ministered the Morning Water and read only a small portion of the documents because there wasn't the luxury of time. As she sat for the interview, it was like clockwork. All the questions that were thrown at her came from those areas she had covered during her reading. After the interview, she was informed that a job was waiting for her. The new job came with a significantly bigger remuneration. All her travelling documents which should have taken about two weeks to arrange, came in less than ten days with all expenses paid, including accommodation and feeding.
Miss Kasema expressed immense gratitude to God for lifting her higher than her expectations. To that effect, she advised people all over the world not to be discouraged in times of trials but to see the Morning Water as a weapon for pulling down strongholds.
ONE ANOINTED BLOW SENDS TUBERCULOSIS TO THE GRAVE
In April 2015, Miss Sindoe Naaege from French Guiana was diagnosed with tuberculosis. Her case was said to be a medical emergency because it was severe. Being a very contagious disease, she was worried about the possibility of spreading the disease to other people. As she grappled with the psychological effects of having the disease, she also battled with the symptoms of the ailment. Severe weakness of the body and loss of weight became a part of her daily life. She almost had her career strangulated by the gradual killer yet she would not panic. She hung onto her faith and trusted in God and was later introduced to the Morning Water.
Just after three days of ministering the Morning Water, the deadly tuberculosis disappeared totally. By the time the French national would return to confirm her health status, she was given a clean bill of health. Her new medical report showed that she is totally free from tuberculosis. Radiating an air of joy and calmness, she advised people on the sick bed, especially youth, to believe that Jesus is alive and remains the same yesterday, today and forever.
"THE HOLY SPIRIT TORMENTED MY TORMENTOR TO DEPART"
Mr Etumodor Jonathan always went to swim in a river in his childhood days. Unknown to him, the swimming would not just end in the physical world. As he slept, he would find himself swimming in rivers and having sex with men in the dream. That dream experience soon became a recurring event to the extent that a spirit would appear to him and cajole him into sexual relations. The spirit would eventually propel him into male prostitution across different states in Nigeria. He became a habitual browser of social media platforms that created opportunities for him to meet men. He would keep dating appointments with married men and would sometimes reject offers only to connect his unwanted patrons to other homosexuals. It became a huge money-making venture for him even as he initiated so many people into the unholy trade.
He would dress like women in order to attract more men. It got to a level that he became infected with the Human Immuno-Deficiency Virus (HIV). All spiritual efforts to deliver him proved abortive. His case was almost an incurable one. In spite of all the harassments he had received from the public, he wouldn't stop his illicit behavior. Somehow, he had discovered Emmanuel TV in Enugu, in a relative's house. Anytime, he touched the screen of the TV set broadcasting Emmanuel TV, he would fall to the ground. Realising that there was a power that could set him free at The SCOAN, he decided to visit.
During the Mass Prayer, on a previous Sunday service, Mr Jonathan came face to face with the raw power of the Most High. As the man of God ministered deliverance to him, the evil spirit, crying like a wounded animal, confessed how it had almost ruined the young man's life with the spirit of man. As the anointing in Prophet T.B. Joshua landed on Mr Jonathan, he crashed to the floor as the spirit was completely decimated through the power in the name of Jesus Christ. Since that moment, Mr Jonathan has become a new creation.
Thanking God during his testimony for saving him from destruction and death in the hands of the evil spirit, the young Nigerian from Delta State, regretted his past deeds and asked for forgiveness from those who must have been affected by his wrong choices. He advised people all over the world to hope only in God for their deliverance, stressing that all should run to God because He is the ultimate solution.
DELIVERED FROM THE GRIP OF A SPIRIT WOMAN
She was six years-old when she had an encounter with a beautiful lady inside a river. Young Nadine was in company of her cousin playing by the riverside when she eventually found herself in the deep. The beautiful lady helped her out after asking her what had brought her to such a dangerous place. After that experience, the lady visited her in the dream and gave her a gold ring and power in her mouth, eyes, breasts and private part. The essence of the power was to enable her to seduce men at will.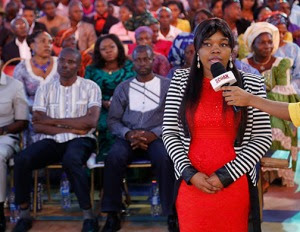 As the lady in the river became more dominant in her life, she received the eyes of a snake that enabled her to attract men. She became very powerful as the spirit woman continued to supply her with different types of evil powers. It got to a level that whatever she pronounced came to pass. At 22, she put her powers to maximal use. She dealt with anyone who dared to step on her toes. A lot of men felt the brunt of her wrath, especially those married men who tried to play deceptive games with her. Most of the men who slept with her did not know that they were only inserting their manhood into the mouth of a snake which represented her private part. Such men ended up having problems or fathering deformed children.
She became an errand girl to the spirit woman who sent her out to nightclubs to destroy men who loved women of easy virtue. Sometimes, the spirit would possess her in order to be able to destroy men through illicit sex. She did not have sex with men for money. She only wanted to destroy their lives. Nadine soon graduated into occult practices. She became a witchdoctor, practiced black magic and wielded a lot of influence. She would deceptively purport to heal people and help girls overcome their problems. But all her gifts were not free; they came with a destructive price. Her relationship with the spirit woman got to a level that they communicated one on one. The spirit woman gave her a couple of protective charms which had terrible side effects. She used those charms to destroy so many marriages and caused some of her patrons to lose their children. Some of the women who patronised her never knew that they were destroying their destinies. All those who consulted her for love potions ended up destroying their lovers. In conjunction with the spirit woman, she would give out fruits and food gifts to innocent people who ended up being destroyed through accidents, diseases and sundry calamities
Having destroyed many people, the spirit woman wanted her to get pregnant and sacrifice her child to the kingdom of darkness but she refused. That was the beginning of her problem with the spirit woman. In the midst of her dilemma, a friend introduced her to Emmanuel TV but the spirit woman would not allow her to concentrate and listen to the Word of God. As the spirit woman never wanted Nadine to be delivered, it battled to distract her anytime she tried to listen to the man of God. It was her quest for freedom that finally brought her to The SCOAN.
As Prophet T.B. Joshua unleashed the power of God during Mass Prayer on that fateful Sunday, the evil spirit in her spoke out. "I am the deceiver. I want to destroy her. I don't want her to get married. I took everything – her Porsche car, her house, her shop and her business… I destroyed her contact with her family. We are 35…"Immediately the man of God laid his hand on her, she crumbled to the ground. The evil spirit was finally expelled in the mighty name of Jesus.
Testifying and displaying some of the charms she had used to wreak havoc on many innocent souls, she thanked God for letting her loose from the grip of the evil spirit. All those evil experiences and dreams are no more; she is now completely free. She advised people to desist from witchcraft and witchdoctors.
A PROPHECTIC DECLARATION TURNS SETBACK TO BREAKTHROUGH
Mr Jonathan Ogiku came to The SCOAN with many burdens. He had lost his job and had been unable to pay his bills. Life was a bitter lot for him as he also came under the heavy pressure of financial insolvency. He was virtually left to his unfortunate fate as nobody cared to lend a helping hand. All the projects he had started could not be completed. With the stark reality of poverty staring at him, he knew he needed God at all costs. The chartered accountant, with a very enviable academic background, was spotted by the man of God during a recent Sunday service.
Led by the Holy Spirit, Prophet T.B. Joshua called him out and told him about the challenges he had been facing as a result of his job loss. The man of God also told him, to the delight of congregants, that after he was delivered, his life would change. Mr Ogiku thereafter received the anointed touch of the man of God and he fell to the ground under the influence of the anointing that breaks the yoke.
As he returned to The SCOAN for his testimony, Mr Ogiku told congregants that his breakthrough came barely weeks after his deliverance. According to him, a better job came after a few weeks. In the new job, he received unexpected increments in his remuneration. He was later promoted to Senior General Manager and Head of Audit for Nigeria, Central and West Africa. As a fellow of the Chartered Institute of Accountants of Nigeria, he has been recognized as a resource person of distinction for his presentation skills and papers. He has been a regular member of faculty at different seminars and training platforms both within and outside Lagos.
Now enjoying a new dispensation of freedom through the power of Jesus, he has been able to complete all his abandoned projects and is no longer a slave to poverty and lack. All his needs are met as and when due. His employers are taking care of him very well. Thanking God for turning his sadness into joy, Mr Ogiku advised people to take the declarations of the Prophet of God seriously as they would always come to pass, irrespective of the prevailing physical circumstances.
CRUMBLING MARRIAGE SAVED BY PROPHECY
Mr and Mrs Mulawisha were living peacefully as husband and wife until the year 2006 when an unpleasant tide of evil attacks punctuated their marriage. Mrs Mulawisha had nightmares in which she would see her mother in-law come to torment her. The torment became rampant to the extent that she almost became paranoid and depressed. In an effort to bring her husband into the picture, she had told him about her experiences, thinking he could help her. But Mr Mulawisha could not swallow what his wife told him. He felt it was an affront on him for his mother to be fingered as the brain behind his wife's problem. Mr Mulawisha compounded the whole thing by letting the cat out of the bag to his mother.
Both his extended family and that of his wife were then pitched against each other and drawn into some kind of crisis. All efforts to bring about peace failed; not even the intervention of Mrs Mulawisha's parents could appease her mother in-law who felt she was wrongly accused. As the crisis brewed on, Mr Mulawisha and his wife fell apart. They lived like two flowers sharing the same root but living in separate worlds. Mrs Mulawisha would sleep in the bedroom while her husband made do with the sitting room. Gradually, they lost affection for each other. Mr Mulawisha eventually went after other women outside and ended up fathering a child out of wedlock.
No one would be happy if their mother was accused of witchcraft. And so, Mr Mulawisha would not be an exception. That wrong accusation became the gateway to all the negative things that worked against his marriage. At a time, there was total lack of communication and intimacy between husband and wife. For four years, they could not come to terms with each other. Even though her mother in-law later died, Mrs Mulawisha was never at peace with herself. She had wanted the whole matter resolved amicably and had sought spiritual help from different places but all her efforts hit the brick wall.
Fed up with their inability to resolve their differences, the couple had gambled with the option of divorce. But before that, they wanted to see the man of God, Prophet T.B. Joshua, whose God-given wisdom and prophetic insight is much sought after. They eventually visited The SCOAN. As the man of God prophesied during the service, he walked up to them and spoke about their matter. "There is a dispute in the house. When you sleep in the room, she will sleep in the sitting room. When you sleep in the sitting room, she will sleep in the room," said the man of God. Confirming the prophecy to be true and stating that it was the reason they were in the church, the man of God laid hands on them and they were delivered. The manifestation of God's anointing on them was instant as they both fell to the ground.
Testifying, the couple regretted their different roles in the saga. They confessed that after their deliverance, the lost love in their lives had been found. Mrs Mulawisha apologised to her husband, her late mother in-law and members of her husband's family. The couple advised people to seek the face of God in whatever situation they may encounter in life.
HIS PROMOTION WAS RELEASED FROM HEAVEN
Mr Dennis Tuapaye had written his promotion exams as a police officer and was told by friends that his name appeared in the list of those who passed the exams and would be promoted to their next rank. However, he received the greatest and strangest shock of his life when the page that was supposed to contain his name was blank. Confused and distraught by the strange development, Mr Tuapaye realised that he needed God to resolve his dilemma. He started watching Emmanuel TV and reading the Word of God.
He received so much inspiration from the teachings of Prophet T.B. Joshua and decided to visit the church during the 53rd birthday anniversary of the man of God. During the special Prayer Line of June 11, 2016, Mr Tuapaye received the anointed touch of the man of God as well as the Morning Water. Returning home, he prayed and ministered the Morning Water, calling on God to unravel the mystery surrounding his missing name. The next day, a call came from his office informing him of the release of a new list of promoted officers.
When he got to his office, he met twelve other officers waiting to check if their names appeared on the list. Mr Tuapaye was informed that of the thirteen of them that had come to check, he was the only one whose name appeared on the promotion list. To the glory of God, Inspector Dennis Tuapaye was promoted to an Assistant Superintendent of Police. He was filled with joy as he testified to God's grace in his life after waiting to be promoted for six years.