The SCOAN Sunday service of January 8, 2017 provided an opportunity for congregants and Christians all over the world to build their faith and connect to the Spirit of God. The atmosphere was filled with the presence of God as the choir drew the attention of God's children to the need to always praise and worship their Father in Spirit and in truth. The testimonies, prayers and prophetic declarations made every moment a remarkable encounter in the House of the Lord.
Admonishing Christians on the importance of prayer and the pertinent need to build and sustain their faith, Prophet T.B. Joshua also reminded them of the urgency of praying with devotion. According to him, it is the connection point between them and God: "Time like this is time to pay attention, not this kind of attention we pay out there – attention with devotion. How do we pay attention? We have to be in an attitude of prayer. As I'm talking to you now, you are supposed to be praying. Viewers at home, wherever you are, as you are looking, paying attention to what I am saying, be in an attitude of prayer. Continue to pray. Simple language. "Oh Holy Spirit, take more of me and give me more of You, more of Your faithfulness, goodness, kindness, purity, holiness." Continuing, the man of God emphasized the fact that devotional prayer avails much to the Christian, including the ability to see visions. He also added that Christians should imbibe the idea of praying all the time and everywhere: "Prayer must be an integral part of you. You must be in an attitude of prayer. 'Take more of me and give me more of You'. Your heart is the prayer room. Your heart is the temple of God. You want to see visions? You must see them with your heart. You must learn to pray in the Spirit. Everywhere can be an altar. Satan keeps catching people unprepared."
Concluding, Prophet T.B. Joshua urged Christians to exercise their faith by using it to put a demand on the anointing. According to him, "Faith is a vacuum that draws the anointing from Jesus. Self-healing will happen. You will be very surprised that the sickness you have been talking about, when you wake up, it will be gone".
Earlier, in her message titled THE END OF OURSELVES, Evangelist Anne lamented the intellectual disposition of modern day Christians who seem to position themselves as God's enemies rather than obey His unquestionable commands. She made reference to Abraham who, in spite of the many years he waited before having a son, never hesitated to offer him to God who commanded him to do so in a rare test of faith. According to her, Abraham trusted and obeyed God because he knew that His command was final: "It was at the point of total obedience that God brought the substitute. God will wait for you at the point of your obedience. It was at that point when he was about to complete the assignment that God brought solution".
She concluded by urging Christians to uphold the will of God, irrespective of the opposition they encounter in the world so that their God-given vision would stand the test of time as it did in the days of Master Jesus, Abraham and Job: "If God gives you a vison and it is opposed by men, don't reduce your vision – stay in the will of God".
TESTIMONIES
SAVED FROM THE CHOPPING BLOCK
Miss Esther Kehinde, her older sister Deborah and their father came to The SCOAN to thank God for the extraordinary thing He had done in replacing her head with the Cross. Yes, literally the Cross! Esther left her house for school and was expected back in the early evening. However, when the clock struck 7pm, 8pm and continued to tick away into the late night, panic ran through the spines of her sister Deborah and their father who united in prayers. While their father prayed with Esther's picture, Deborah ministered the Morning Water on Esther's bed and put a demand on the anointing by asking the God of Prophet T.B. Joshua to return her sister home safely from wherever she had gone.
Recounting her unbelievable experience, Esther said that on her way back from school, an unknown man had violently knocked her unconscious. When she came to her senses, she found herself in the midst of several wailing captives. She was panicked as to what was happening and why they were crying. Within seconds, she saw people beheaded and sliced into bits. In that moment it dawned on her that she was about to be murdered. As she looked at the killers, a demand came in for fresh blood. "Yes, there is a new arrival," one of the henchmen said, pointing in the direction of Esther. The thought of being beheaded and her flesh sold to the human flesh and blood buyers rushed through her mind. They motioned for her to place her head on the chopping board. She was forced to obey. As the killer raised his ax up to chop off Esther's head, he suddenly cried out that he saw a Cross instead of a human head. This threw the killer into a frenzy and he shoved Esther aside. Another kidnapper standing by, asked Esther, "Which church do you attend?" Esther responded, "The Synagogue, Church Of All Nations". The man's next question was about Esther's pastor. When she told him that her pastor was Prophet T.B. Joshua, the man did not hesitate to show Esther the exit. As Esther took to her heels in the direction of escape from the shadows of death, a young boy attempted to escape at the same time but was quickly seized by the killer kidnappers and dismembered within minutes.
As Esther finished her narration, her sister Deborah took up the story from her end. After she had offered her prayer at home, she suddenly saw Prophet T.B. Joshua in a vision holding Esther's hand while leading her through a bush path. He handed the young sister into her hands saying, "She has been released". Indeed, Esther was released and returned home safely to narrate her ordeal through tears of joy. The two sisters and their father thanked God for the protection they were under in God's hands. Esther also advised people all over the world to believe in the anointing in the Morning Water and minister it in faith, in Jesus' name.
AN UNEMPLOYED GRADUATE ON THE WORLD STAGE
She had come under relentless spiritual attacks and was on the brink of losing out in the battle of survival.  Ms Brigitte Graciella Afoumbom from Cameroon needed to get back on her feet and was desperately seeking the prospects of a promising future. As a result of the evil attack, the graduate of Electrical Engineering had been forced to leave her job and remained jobless for an exasperating six years. At the end of that time, she was introduced to The SCOAN through Emmanuel TV. In 2010 she had the opportunity to visit and receive prayer and deliverance through Prophet T.B. Joshua who personally declared that she was free. Uplifted, she returned to her country with strengthened faith and the Morning Water.
In a dream one night, Prophet T.B. Joshua appeared to her, informing her that there was a hole in her head. He placed his hands on her head and shook it, after which he told her that she was free from all her troubles. Upon waking up, she realized that she was free indeed and suddenly saw a bright future in front of her. Disconnected from failure and energized by Christ, Ms Afoumbom set out for an exam on Computer Network Security and passed with a very high score. She then sat for a job interview and was selected as the best candidate. She was eventually employed as a Data Network Security Engineer by one of the biggest firms in her country.
As she stayed connected to Christ through His Word, by His Spirit, she was inspired by the Holy Spirit to improve her knowledge and so, in 2015, she registered for a course which required at least ten years of practice and one year of preparation. Saddled with the herculean requirements of that course, she prayed earnestly and ministered the Morning Water, asking God to see her through the journey. In two months time, she was ready for the six-hour long exam. Ministering the Morning Water, she cried to God for His favour and when the results of the professional exam were released, she had passed in one sitting.
With a new certificate and new professional status, Ms Afoumbom began looking for a job that matched her new level. She continued to pray and minister the Morning Water as she set her sights on the World Bank. Once miraculously securing an appointment for an interview, she used her Faith Bracelet to count her faith as she was questioned and also put away offence from her heart, forgiving a colleague who had once hurt her at work. To the glory of God, she was granted employment and was remarkably posted to the World Bank headquarters in Washington DC to serve as an Information Security Officer. "The words of Prophet T.B. Joshua are powerful and effective," she told congregants as she testified to the great things God had done in her life.
BEDWETTING: A MOTHER'S SHAME LIFTED
Thoughts of suicide plagued Mrs Anthonia Nnenna Nwabiakam as she continued to battle with decades of bedwetting, a spiritual husband, financial hardship and marital problems. Thoughts of hopelessness and helplessness kept rearing their ugly heads and made her entire life utterly miserable. Mrs Nwabiakam would never have considered coming to The SCOAN but for her mother's recent revival from a near-death state through the ministration of the Morning Water. Always under the impression that the miracles at the Arena of Liberty were fake, her view began to change as suddenly as her mother's ill-health did.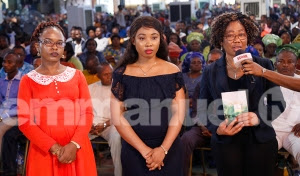 During the penultimate Monday'sservice, Mrs Nwabiakam hesitantly attended and was astonished when she came under the influence of the Holy Spirit at the Prayer Line. The spiritual husband tried to force her out of the presence of God at several points but the anointing would not give her breathing space. As the prayer continued, the evil spirit could not stand the firepower of the Holy Spirit and was cast out of her life forever.
In the presence of her sister and daughter, she testified that since her deliverance, all negative experiences in her life have stopped. She now sleeps freely and is filled with joy and inner peace. Thanking God for lifting a heavy burden out of her life, she advised people all over the world to stop listening to those who would discourage them from coming to Jesus for their deliverance.
FRUIT OF THE WOMB PACKAGED AND DELIVERED FROM HEAVEN
Years of trying to have a child left a frustrated and disappointed marriage in its wake. No doctor or specialist could pinpoint the cause of Mrs Natasha's fruitlessness. Devastated, the young wife turned to Emmanuel TV and began to pray along with Prophet T.B. Joshua. One fateful day, Mrs Natasha complained to her doctor that she felt sick and after an ultrasound, was told that she was pregnant! Ecstatic, Mrs Natasha began to rejoice only to be silenced by the doctor's follow up statement: there was a serious problem and the removal of the pregnancy along with one of her fallopian tubes was suggested and highly recommended.
Weeping, Mrs Natasha left the doctor's office and turned immediately to the counsel of her uncle. This was the same uncle who had previously introduced her to Emmanuel TV. After narrating her experience to him, he reminded her that distance was not a barrier for the move of the Holy Spirit. With his encouragement, she turned away from despair to Jesus Christ. At his suggestion, she placed her picture on the screen of Emmanuel TV as Prophet T.B. Joshua was praying and allowed Jesus do the rest. After prayer, she returned to the hospital and requested the doctor to check her pregnancy again. To the glory of God, the doctor cancelled his earlier prognosis and confirmed her pregnancy was perfectly healthy.
At the time of delivery, the doctor again recommended an operation as her cervix was too small. Once again, she called her uncle who asked her to pray along with the man of God on Emmanuel TV through the phone. In the end, she was delivered of a beautiful, bouncing baby girl. For the Haitian nationals living in Canada, it was Christ's victory over the plans of the devil. Thanking God for the miracle, Natasha who recounted the embarrassment she faced as a childless woman had the following advice for people all over the world: "Wait on God; just believe and receive it".